April is just gorgeous where I live, PLUS it is my Birthday Month, so I most definitely found myself relaxing in my backyard hammock with a book far more often than usual.
In the last month I have read …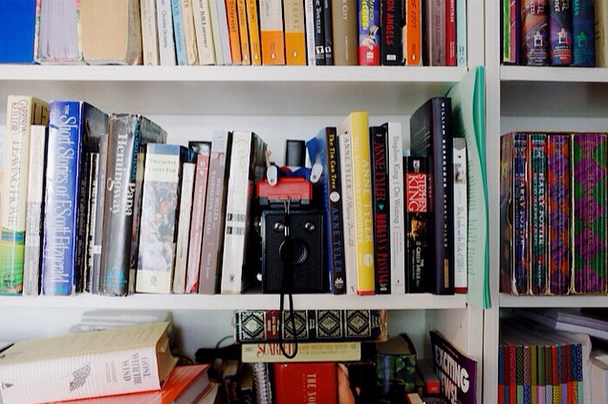 Contact by Sean Platt and Johnny B Truant — Again, full disclosure, I am friends with and work for these authors. This is the second book in their Alien Invasion series. I liked it a lot and read it *very* fast. One note if you start this series — the books don't really feel like stand-alone novels. They are very very clearly just parts of a whole longer series, so you will feel unsatisfied (read: want to buy the next book) at the end.
The First Tycoon: The Epic Life of Cornelius Vanderbilt by T.J. Stiles — Ok, I have been reading this book for about 6 months. I am ashamed. Ashamed, I tell you. That said I really enjoyed this book. I feel like Vanderbilt (and his empire and corporations) is a very important step in the development of the economic landscape of the United States. Alexander Hamilton, the Bank of the United States, Cornelius Vanderbilt.
New Centurions by Joseph Wambaugh — I'm going to paraphrase another review that I read: This book does not really have a plot, so much as it is a character study of 3 LAPD over 5 years in the early 1960s. The book begins in their academy days, and follows each of the 3 through their individual assignments, what they are learning year after year of being police officers, and finally ending with the Watts Riots. This is the debut novel from this author (published 1971) after he ended his own career as a police officer. I really enjoyed this book, especially the details about Los Angeles, and I will certainly be reading more by him.
Lost Girls: An Unsolved American Mystery by Robert Kolker — True crime (partly because I love it and partly because I'm working on a murder mystery series). This book is about the Long Island Serial Killer, who has not actually been caught. So, really it's about the victims and the families of the victims — a totally different take than you usually see for true crime. I enjoyed it, but I definitely prefer books with the closure of having the killer at least caught.
12 by Sean Platt and David W. Wright — This book won't come out for a bit, but I got an advanced copy since I work for the authors. This is the story of a diner shooting (no spoiler, it's in the first chapter), and follows the days of the victims and the shooter for the 12 hours before the shooting. I loved this book so much! It's my new favorite from these authors, and the last climactic chapter made me cry. So good. Highly recommended. Get on their email list to learn when it is released.
Gotta Read It! Five Simple Steps to a Fiction Pitch that Sells by Libbie Hawker — I'm getting ready to launch a few books in the next six months, and one of the things I am dreading is the marketing part of it. Specifically writing the book's description. This how-to came highly recommended. It's so short I read the whole thing on a plane ride, and I will probably revisit it over and over as I publish more books.
The Innocent Man by John Grisham — True crime. Good not great. I've only read one other Grisham novel and that was probably close to 20 years ago, so I can't really compare this one. But as far as true crime goes, I didn't love it. I didn't find myself sympathizing with any of the characters — victims or otherwise. This was much more journalistic (this happened, then this happened) than narrative. I did pick up a couple things for the murder mystery I'm working on, though.
Write Better, Faster: How to Triple Your Writing Speed and Write more Every Day by Monica Leonelle — Monica is a friend of mine (we are co-authoring a new series that I'll tell you about soon), and writes SUPER fast. She put together this book in response to all the questions she gets about how to write fast. It's about half book content (tips and ideas for how to triple your writing speed) and half a daily diary that she kept in late 2013 as she was testing and fine-tuning her technique. So interesting and helpful. I'm excited to implement her tips!
In related news, I am becoming moderately addicted to buying kindle books, and am in danger of becoming a digital hoarder (would be much more so if traditional publishers were more reasonable with their ebook pricing).
What have you been reading lately?